Before & After
Fun with Graphics
Thank you to the people who put tutorials for PSP on the internet.
I am thankful for the opportunity to learn from your experience.
These are thumbnail photos. Click to enlarge.
Photos on the left are reduced originals. Photos on the right are reduced variations using PSP9.
Above: view from Castle Rock looking toward Invermere, B.C.
Above: My friend Sue and me at a party in Texas
Two photos from our 20th anniversary party merged together.
May 17, 2009 - Hike in the mountains
Above: My friend Carol
And these were fun to create:
Above: I made these for my friend, Jacque
Above & Below: Below: Tubes from Monti's Baby Scrap Kit & Monti's Love Scrap Kit
www.montispixelplayground.com
This photo taken by my husband:
And this is what I created out of it.

Above: our local Walmart. Click to enlarge, you may need to scroll left & right to see it all.
This panorama was made from 4 photos.
Below: Everyone in this province calls it God's Country.
This is the view from the industrial part of town on the West side.
This panorama was made from 3 photos.
We went on a hike with friends.
Acknowledge dreamgraphics for misted cougar.
Me and my friend Mackenzie, my clogging buddy.
These 4 photos were sent to me by email, and I combined them all into one graphic, below.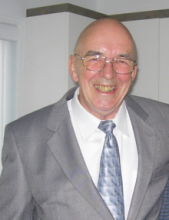 This old photo of my Dad, when combined with this more recent one,
resulted in the following, which I created for his 75th birthday.

I visited my grade 5/6 teacher in a home in early May 2010. The above photo is the original.
Below are variations using Paint Shop Pro.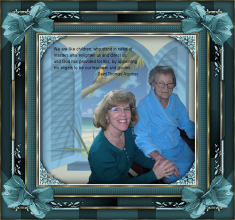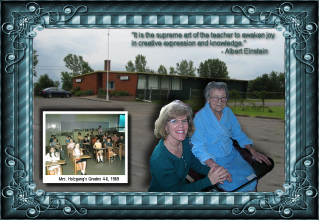 Memories of my grade school years are precious to me. I enjoyed making these variations in her honor.